Jeffrey Lynn Steininger Jr. or as we all know him as Jeffree Star is a true example of a round star as her qualities range from the criteria of courage, opinions of critiques, drama, glamour, and controversies of the limelight. From being a singer-songwriter to unraveling his multi-talented personality and establishing himself as a YouTuber, entrepreneur, and makeup artist, he seems to have climbed the extra miles in no time, and how. 
As the founder and owner of Jeffree Star Cosmetics, Star has made his place in the world of fashion and glamour and is named amongst the most popular makeup artists across the world. His vlogs help his fans connect better with their idol and have a sneak peek into his life and work.
What is Jeffree Star's Net Worth?
Jeffree Star is an American Youtuber with millions of followers, a makeup artist, a former singer, and a songwriter. His popularity expands beyond continents and his fan base is spread across the world.  His net worth is $200 million, accounting for his successful makeup brand by the name Jeffree Star Cosmetics, his successful music albums like Beauty Killer, etc.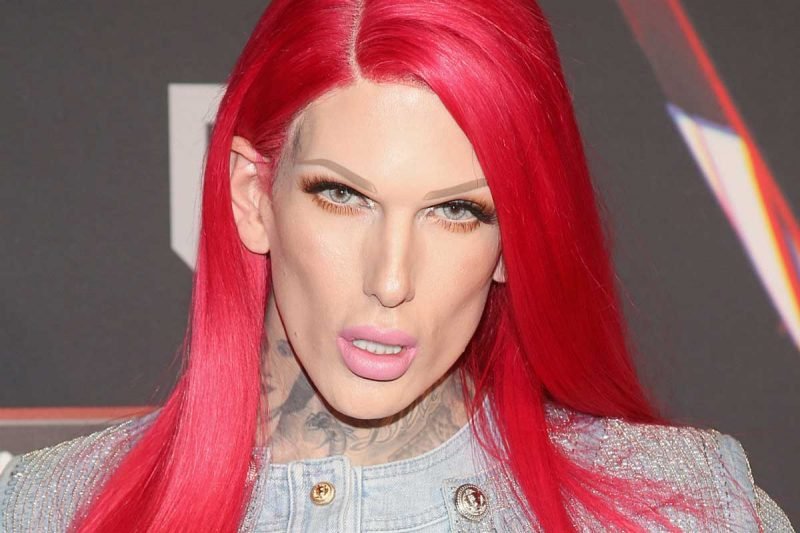 Jeffree Star has also been part of some plays like Plastic Surgery Slumber Party, Cupcakes Taste Like Violence, Virginity, Concealer, Mr. Diva, etc. Some movies that featured Jeffree Stars were LA Ink, What Now, Shane and Friends, The Secret World of Jeffree Star, The Beautiful World of Jeffree Star, and The Dish with Trish.
Jeffree Star's Early Life:
Jeffree Lynn Steininger Jr. popularly known as Jeffree Star started his life as he was born in the beautiful city of Los Angeles, California on 15 November 1985. His early stages of life (growing stages) took place in Orange County, California. It is said by many and quoted by Jeffree Star himself that he was so fond of makeup that he even started experimenting with his mother's cosmetics as a child. 
Jeffree Star's fondness for makeup even made him convince his mother to let him wear makeup while he was attending school when he was still in Junior High. He later completed his schooling ( high school) and graduated in 2002 from Pacifica High School in Garden Grove, California.
He later lived his dream in his later years as he moved to Los Angeles in order to take and excel in various jobs including makeup, modeling, and music. Jeffree has stated many times that he even used fake Identification Cards during his weekends to attend Hollywood Clubs in order to get hired by celebrities to do their makeup and gain experience. 
In 2015, he started dating Nathan Schwandt and dated him for almost five years. In 2020, the couple called it splits and moved on with their lives. Time and again, Jeffree Star has declared that he does not do alcohol or hard drugs. However, he has also shared his experiences with vodka, time and again. Also, he has admitted to consuming marijuana every once in a while. It must be noted that marijuana is legal in California. 
Jeffree Star's Career:
Samantha Maloney was the woman behind Jeffree Star's career as a musician. She not only encouraged him to follow his passion for music but also inspired him to become a part of the True Colors Tour 2007. Jeffree was initially reluctant and not very confident about joining the tour but having been encouraged by Samantha Maloney, he not only became a part of the tour but the tour was promoted with his face on the poster. The LGBT Logo channel sponsored the True Colors Tour 2007 and the tour was made to begin in June so that it would fall in the pride month.
In 2009, he released his first album Beauty Killer, which was quite successful and ranked seventh in the US Billboard Top Electronic Albums chart. His next album was "Lollipop Luxury" which featured Nicki Minaj alongside him. Star did several musical tours to promote his music video. Soon, he joined hands with Konvict Muzik and its founder Akon, in 2010. Akon was impressed by his music and called him "the next Lady Gaga". There were rumors of the two doing a second music video together. But, before they could do a music video together, stars left the music industry and after he resurfaced, he was seen saying that he made a big mistake by joining hands with Akon. 
In 2014, he came up with an e-commerce makeup brand named Jeffree Star Cosmetics. While promoting the brand, he said that when his music career was ruined, he went bankrupt and with all the money he had in his hand, he used it to set up his makeup brand. 
How does Jeffree Star Have So Much Money?
Jeffree Star has the hands of Midas. Everything he touches turns to gold. But it is not his luck that guides him into success. His sheer talent and the hard work he puts into every venture he is a part of, encashes itself. From his music albums to his small and big roles in various movies, it is evident that he never takes his job or his fame lightly. He understands that everything comes with a price and is ready to pay it. 
After the failure of his music career when he went bankrupt, he did not lose hope and worked hard enough to conquer a net worth of $200 million. He has also been a part of some extended plays and takes up every venture that is suitable for him and lands on his plate.  
How Does Jeffree Star Spend His Money?
The make-up mogul is known for its glamour across the world. But believing that he spends all his money on his lavish dresses, would be foolish. Jeffree Star is an investor at heart and believes in investing his money in smart businesses that have a large scope and also empower young businessmen to create a world of their own. 
In one of his interviews, Jeffree Star asserted that he owns investment properties across the world and likes to discover new and interesting real estate properties. He also said that he likes to invest in the marijuana business. 
The marijuana business has been popularizing at a rapid rate and people have started to see the scope of Marijuana in various industries. It is therefore welcoming more and new investors in the business, who seek to get associated with the new profitable domain.
How Much Does Jeffree Star Make Per Youtube Video?
Jeffree Star has been named amongst the list of top 10 Youtubers by Forbes'. As per a report, he has 16.9 million followers. Reports suggested that from June 2019 to June 2020, he has had 600 million views and the remuneration generated was approximately $15 million. 
There have been some serious accusations on the Youtuber about physical and sexual abuse. His attorney denied any such allegations but as per our sources, there has been some clear evidence that suggests that Jeffree Star paid his accuser a sum of $45,000 some days before he took back his complaint.
The controversy did lead to Star surfacing in the news for a long time and added to the views on his YouTube channel. Jeffree Star has also been accused of making some morally and politically incorrect statements every once in a while. He even used racial slurs in several of his comments.
Favorite Quotes from Jeffree Star:
Confidence is the jewel Jeffree Star wears like a boss. His self-love and confidence are evident from his statements like, "Haters are just confused admirers because they can't figure out the reason why everyone loves you." 
His energy is infectious and so is the positivity he adds to the environment. He does come across as someone absorbed in self-love but he makes sure he drops hints about his real keys to happiness. He says, "The only way to find true happiness is to risk being completely cut open. Sure, everybody wants to play God, but for me, it's a full-time job. What you don't understand, you can make anything mean."
Love is a long-debated and questioned subject. While some choose the ones they love, the others choose the ones who love them. Jeffree has a slightly different approach to love. He says, "Don't fall in love with someone you can live with, fall in love with someone you can't live without."
Conclusion: 
Jeffree Star was born on 15 November 1985 in Los Angeles County, California, U.S. He was brought up in Orange County, California, and was sent to Pacifica High School[10] in Garden Grove, California. He has had a short yet successful music career, sadly after which he went bankrupt. He later started his makeup brand, which has been doing great ever since.
There have been several failed attempts at painting Jeffree into black or white but the universe does not always function into zeroes and ones. He's a grey character walking a zig Zag life.