If you are fond of watching anime shows, then you must be a regular visitor to anime websites that are filled with so many cartoons, television shows, and even animated films. These anime websites include all genres of anime shows, be it horror, action, or shows that are meant for only kids. Many sites allow you the provision of filtering any anime show in terms of season, language, year, and even quality. So today I have come up with a collection of best-picked anime websites with website links and features. If interested in exploring them, then let us begin with:
Netflix
When it comes to enjoying the best anime shows, then Netflix should be the prime choice for anime lovers. It is the best platform to browse your favorite anime. On Netflix, you can find top anime shows like Jojo, Naruto, Baki, Dragon Slayer, One Punch Man, and many more. If you are watching a web series in a different language, then there is dubbing through subtitles. 
By this, you can easily understand what the character is saying. There are movies from the 90s like Andaz Apna Apna, and cartoon films like Spirited Away, etc. Netflix fills the purpose of every viewer whether they are kids or adults. Netflix is available all around the world with 1 ad annoyance. Download it for mobile at a price of 199.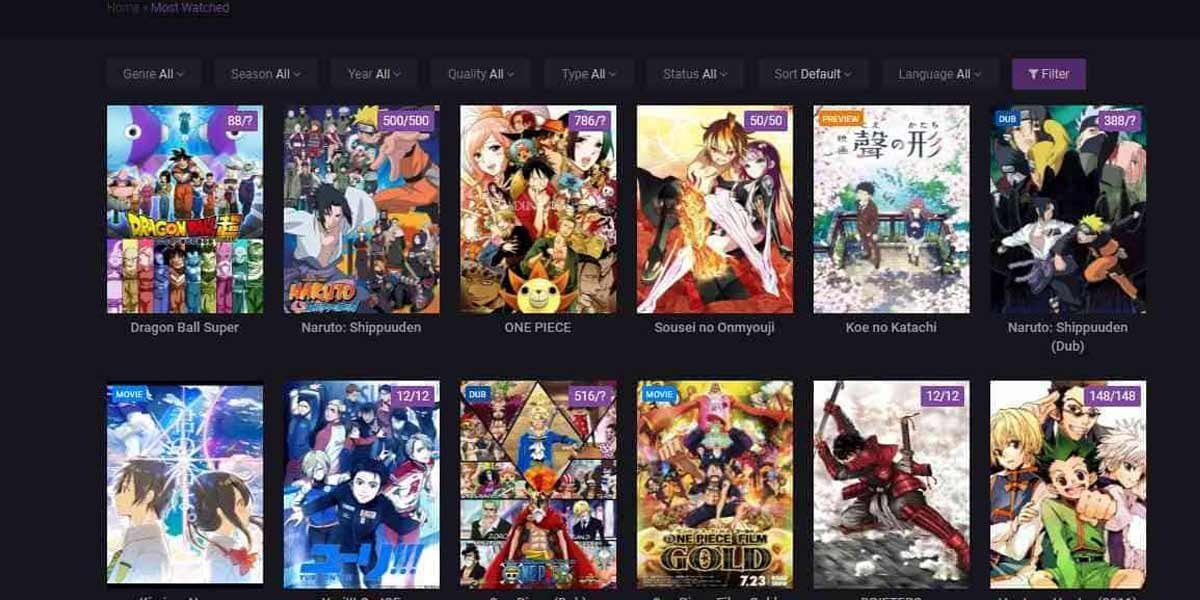 Gogoanime
Coming on to the next anime website is Gogoanime. It is the platform to view so many animated films. This anime website benefits its users in watching free online viewing and browsing any anime show by month, week or day. If you prefer Gogoanime then you are at the benefit of watching the running series very simply. Anyone who has a special taste for a particular genre be it horror, drama, cars, or some other can enjoy it here. 
Gogoanime is the best choice to prefer especially if you crave newly released shows with dubbing. Chinese animated shows can also be watched here. If you are interested in watching any special video, then you can drop your request here. Gogoanime is available in many countries including the U.K, the Philippines, Singapore, and even India. You need to refer to VPN if you want to watch regions restricted by geographical conditions. There are only 3 ad annoyances here.
Soul Anime
This comes as another wonderful anime website to explore all the animated shows with no payment required. If you are a fan of anime superheroes like DragonBallZ or Black Clover, then these are available on Soul Anime. Apart from these popular ones, there are other anime shows you can find here including the new fairy tale series. 
Soul Anime will provide you with several anime lists. Here you can easily browse the movie of your choice. It will keep you updated daily on the upcoming episodes. So you won't have to regret missing any movie that you wished to watch but haven't. The ad annoyance here is 4. It is available all around the world. 
My Anime List
It is also one of the best anime websites to watch many animated films. The one big reason why it is among the best anime sites is it features suggestions on clips and reviews also. If you are interested in watching a seasonal anime, then it is all possible here. Suppose there is any movie that is going to be released, then this site notifies its users. Also, you can just type the name of a movie character while browsing clips on My Anime List. Moreover, it also benefits you in viewing the promotional videos. It is available all around the world with 1 ad annoyance. 
Crunchyroll
While discussing the best anime websites to watch free anime shows, then it is not possible to skip Crunchyroll. Here you can freely watch dramas or animated shows. Crunchyroll is one of the best anime websites in referring to any anime show on demand. Users are expected to add on their reviews of watched animated series. Moreover, video sharing on social media platforms like Twitter and Facebook is also allowed by Crunchyroll. 
Language is no barrier on this anime website. It is multi-lingual supporting Italian, Dutch, English, and many other languages. If you are interested in watching drama shows then it is all expected in Crunchyroll. It is available in multiple regions including India, Canada, and the United States with 1 ad annoyance. VPN would be required if you want to view it in a geo-restricted region.
Masterani
Coming on to the next is Masterani. It is the best website to explore many series and animated films. Here at Masterani, you can enjoy streaming anime series with no limitation. The User interface of this anime website is user-friendly. It holds the status of one of the websites with speedy anime streaming. 
Masterani does not ask for mandatory registration or any added information from its users. The website has the provision of informing its users about the anime via comments. It also gives ratings of the show that can make you understand which show is running better. Masterani is available all around the world with 4 ad annoyances. 
Anime Planet
Anime Planet also comes as the next best choice among the anime websites in watching free online anime shows. This website comprises more than 40,000 anime episodes. Anime Planet lets its users create their anime list. It also suggests animation shows. You won't experience any uneasy experience while searching for the series. Anime Planet allows you to have a top list of anime. This anime website is available in many countries including the Philippines, Australia, U.S., and also India with 1 ad annoyance. 
9Anime
9Anime too joins the brigade of the best anime websites in watching free anime shows. The website has multiple categories for every genre of choice. Be it action, drama, humor or game, etc. Here you can easily find any running shoes and get notified with upcoming ones plus the movies that have been watched multiple times. 
And believe me, if you are looking for good movies, shows, and OVA video animations, then your search ends with 9Anime. This website also has the provision of filtering videos according to quality, language, season, type, and year also. To watch any anime of your choice, you are most welcome to request.