The world is expanding beyond its boundaries through art. Art is what binds us together as a society that has the potential to create and comprehend. In recent years, cinema has crossed all the barriers of languages and culture that had kept it bound to a specific region or a country. People are now more interested in watching movies and web series that were created in other countries, willing to discover their culture and literature through their art. 
With the introduction of different OTT platforms, people can watch movies and web series on their phones at such affordable rates. Also, they can watch content from whichever country they like. Precisely, the world is going global. 
As much as OTT platforms are a boon, sometimes it becomes such a task to watch a movie, no matter how much you like it since it is in a different language and you need subtitles to aid you in understanding the movie. When you download a movie from the internet, it does not always come with subtitles. To help you out in such situations, we shall be listing the top ten sources, from where you can easily fetch your movie's subtitles.
This website is popular amongst the millennials for having the most massive collection of subtitles of different movies. The website claims to provide the subtitles of as many as 5 million movies.
The website primarily functions in several languages from Aragonese to Vietnamese. It claims to provide subtitles of movies from 50 different languages. Which means that the website is large enough to cater to people speaking 50 languages around the world, which is a lot of visitors for a website.
The search is quite advanced. It allows you to sort and search movies based on age, rating, format, etc. 
This website is pronounced "addicted" and it is clearly the kind of relationship its users share with it. The website claims to provide the best quality subtitles for movies. It provides you with subtitles not just for the movies but for television shows too.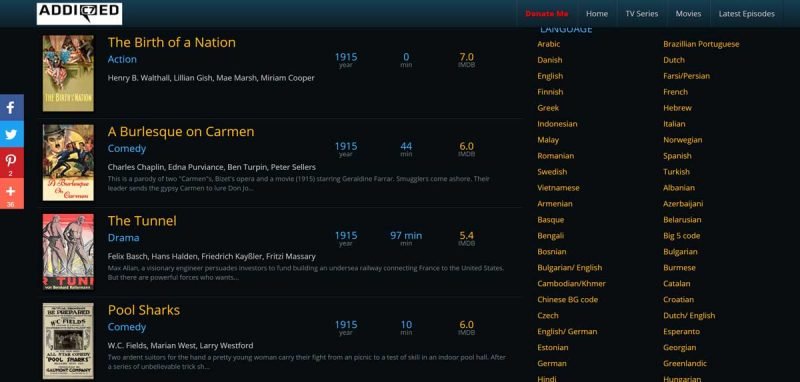 Addicted allows its users to search and download subtitles in various languages. All you need to do to procure and enjoy its services is just sign in to the website. Once you've signed in, you can easily access the subtitles of different movies.
This one is a website that has as many as 2 million subtitles. It contains subtitles for 58,000 movies and 6,000 TV series.
The website caters to people from all parts of the world. Its simple interface and easy-to-understand format are what make it such a popular site.
YIFY Subtitles is a website that has been named after a popular piracy group. This website allows its users to download subtitles of different movies in different languages.
You might form a bad image of the website in your mind, in context to its name, but this website is exceptionally safe and piracy-free too. Also, it offers movie subtitles for downloading.
This site was originally launched in 2002. It has been running smoothly ever since. The name suggests how old the website is. It is still one of the most efficient websites that provide us with subtitles for different movies.
Especially subtitles for the older movies can be found on this website. If you want to watch an old movie and seek its subtitles, DIVX Subtitles is your one-stop solution.
This website was launched in the year 2005. One feature of the website which makes it so special, and stands out from the crowd is that it provides subtitles for even hearing-impaired people.
It provides Subtitles in several languages spoken across the world and for various movies that have been released across the World. Subscene's popularity has been surging high especially in the past few years.
If you're a Bollywood buff but fail to understand Hindi this website is like a boon to you. This provides subtitles for almost every Bollywood movie there is and in different languages like English, Dutch, French, Arabic, etc, and even the other Indian languages.
On this website, you can easily upload and download the movie subtitles you like. The website is very popular amongst people who do not speak Hindi and reside in foreign countries but love Bollywood.
This website has one of the coolest user interfaces and the easiest one. It has subtitles for thousands of movies and in the various languages spoken across the world.  The website offers very easy navigation across it.
You can not just download the subtitles but also upload the ones you like. The name of the website suggests that it might provide subtitles in only the English language. However, it provides subtitles for various movies and in multiple languages like English, Dutch, Italian, French, etc.
This website claims to provide subtitles in the most number languages. All you need to do is simply visit the website, search for your movie in the search bar. It will provide you with a list of search results.
You can choose the subtitles you want to download and can even upload if you have them. The users are provided with subtitles of various movies in different languages. They can easily select the movie they like and the language in which they would like its subtitles. 
This website isn't as popular as the others but it is like a substitute website that people visit when they cannot find suitable subtitles on other websites.
It provides subtitles in different languages like English, Dutch, Italian, French, etc. Well, with its efficiency to function, the website is proving to be successful each day and its users love it more than anything.
Conclusion:
There are several websites available on the internet that provide us with subtitles of various movies in various languages spoken across the world. The top ten websites providing us with top-quality subtitles are OpenSubtitles, Addic7ed, Podnapisi, YIFY Subtitles, DIVX Subtitles, Subscene, BollyNook, English Subtitles, Subtitles.hr, and Subdl.