The Daytona is the Rolex's most desired watch, regarded as the most legendary timepiece of the 20th century. This Rolex model first launched in 1963 and is called after the Daytona International Speedway in Florida. The Cosmograph Daytona was aimed at gentlemen drivers and was created as a race watch. Men with flair, wealth, and a passion for automobiles.
The Daytona's fame stems in part from its link with actor and part-time racer Paul Newman. The 'Paul Newman' or Panda model of the watch he sported became well-known. It was auctioned for $18 million in late 2017, making it the most expensive wristwatch in history. The unique dialed timepieces of that era, ironically, did not sell well at the time and were eventually phased out in the 1970s. Compare that to the present waiting lists, which may be years long, that consumers have joined to acquire a new watch.
Rolex Daytona Alternatives
With new Rolex watch models being scarce and vintage ones being unreasonably pricey, here are some less-priced options. Watches that pay respect to the timeless Rolex Daytona, or at the very least draw design influence from it.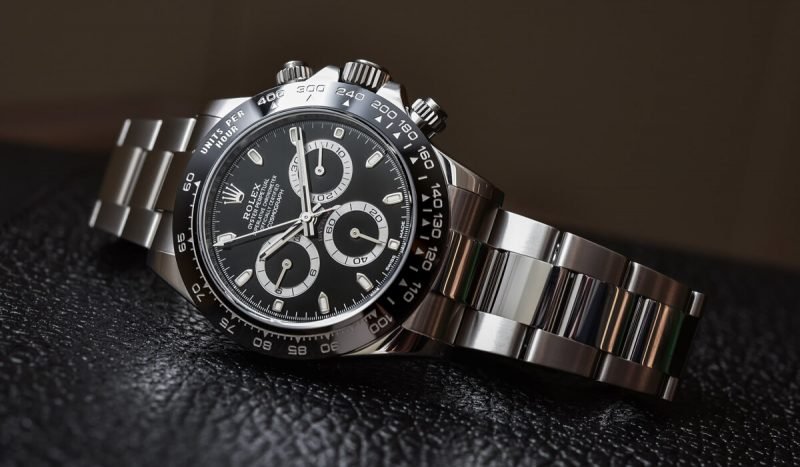 1. Stuhrling Original Concorso EU665B
The Stuhrling Concorso inevitably leads to being a full-fledged Daytona homage. It's a low-cost quartz watch. All the primary design elements are represented. Stuhrling is a company established in the United States that claims to have sold fifteen million timepieces in recent decades. That's a large amount, and it demonstrates the brand's desire and the public's reaction.
Stuhrling has the Daytona DNA and has frequently accompanied the Daytona pattern. It's a dressier model than a sports watch, so it's more versatile. The specifications are exactly as you'd expect at this pricing point. Except for the glass, which is Krysterna crystal, a brand-new product. The watch has a 40mm casing and a Japanese quartz movement that is dependable.
2. Hoffman Racing 40 RQ-11
Situated in New York, Hoffman has created many magnificent throwback chronographs, with the Racing 40 being one of the most similar to the Rolex Daytona. Like Paul Newman's Rolex, it has an iconic black and white panda dial. Will Hoffman founded the brand in 2016 and has since released six timepieces. A sold-out vintage diver and this motor racing model are among the most famous.
The Racing 40 was available in two versions: mechanical and quartz. The quartz model resembles a Rolex Daytona and checks all the criteria. It's a racing watch, as the name implies, and it does a fantastic job at emulating a 1970s motorsports timepiece.
There are a few great touches every now and then. The dial has two layers: a white upper dial and a black lower dial. Furthermore, the subdials have a textured appearance. The ultimate result is a stylish vintage-inspired design. Despite its vintage appearance, it is driven by a cutting-edge hybrid movement, a dependable Seiko Meca-Quartz. The case is 40mm width and 12mm thick, so it's mid-sized, as it ought to be.
3. Orient Neo 70s WV0041TX Solar
You can count on Orient to have a model in most categories. This is the closest thing they have to Daytona, and it's one of a kind because it's solar-powered. Orient is a well-known brand in the timepiece industry with a striking characteristic. They create their own internal movements. That's a major deal at this pricing point.
This is also a model to contemplate if you are concerned about the environmental impact of your wristwatch. Solar power is a good combination of precision and long-term viability. This is a big watch, measuring 42mm across with a 22mm bracelet. The innovation of the solar-powered movement does not significantly increase the price. It's still a reasonably priced model. The Neo 70s chronograph combines Japanese durability and creativity with an attractive retro style.
4. Alpha Paul Newman
Alpha is a company that specializes in replica Rolex watches. They are a Chinese tribute brand that makes a living by imitating iconic Swiss designs. They do it, however, quite well. So, while this is another low-cost item, it has a significant selling feature. It has a mechanical movement and is priced in quartz. That has to be worth looking into more. With this version, Alpha provides a variety of dial settings. The Panda dials are the most often used. In fact, Alpha refers to these models as "Paul Newman" in their marketing materials. They're upfront about the source of their motivation.
The movement is a hand-winding Sea-gull SG2903 produced in China. It's inexpensive and dependable, much like the rest of Sea-movements. Gull's If that matters to you, it's a thirty-minute chronograph rather than an hour. When you consider the value, it's not much of a sacrifice to make.
Takeaway
People adore Paul Newman's watch, which was one of the most extravagant watches ever marketed. However, some versions of it are not cheap, costing six figures and requiring you to join a waiting list. If you are unable or unwilling to obtain these iconic motorsports watches, the abovementioned watches are another choice that is both a tribute and an economical alternative.