Summertime is the best time of the year for camping, hiking, and outdoor adventures. For people who love the outdoors, hot and sweaty feet can be a big detraction from engaging in these activities. Thankfully, there are sandals that are made to handle all of these activities with ease while also allowing your feet to be cool and comfortable all day long.
Summer sandals should be durable and comfortable just like tennis shoes or hiking shoes without the hot upper foot enclosure. Getting a sandal that you can wear out on a hike and then out to dinner can make your closet more versatile as well. You will love that these sandals can be used for so many different purposes so that your feet can be comfortable at all times of the day.
If you are ready to find out more about the top summer sandals for women in 2022, you need to keep reading!
Top Summer Sandals for Women In 2022
The Cortona sandal is not only really attractive, it is also one of the most comfortable sandals on the market today. You will love the sports sandal design of this summer sandal and the soft EVA midsole will protect your feet from concussion while also making sure that your heels and arches are fully supported all day long. The soft straps are stretchy and easy to adjust and the outsole provides a strong grip and effective arch support. This is a very lightweight and well-designed sandal that will fit your foot like a glove and prevent rubs, blisters, and other discomforts that are common to hiking sandals.
If you love your sneakers but wish that they were not so hot on your feet in the summer, you want to get the Cortona Sandal for your summer wardrobe. This is a sandal that you can go hiking in or even enjoy paddle boarding or other water adventures without wet and sticky feet all day. For a versatile sandal that will hold up to your daily demands with ease, there is no better choice to make.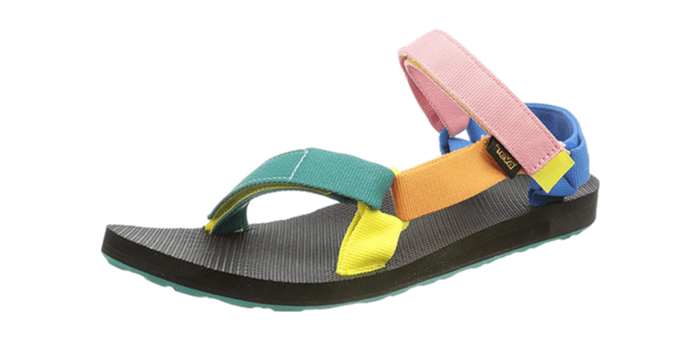 2.       Teva Original Sandal
The original Teva sandal has been popular for so many years for a good reason. This is one of the most comfortable sandals that you can buy and you will love the simplicity of the design and the lightness of the sandal on your foot. The EVA midsole is made to cradle your foot with superior comfort and the rugged straps resist water and are flexible and easy to adjust. This is a sandal that you can hike in or go running or walking in and you will never feel like your feet are constricted or pinched.
Teva sandals are all made to be really simple and to fit many sizes and shapes of foot and the original sandal is the best option for this kind of fit. If you want a comfortable and effective sandal that offers minimal straps as well as a simple design, this is the right sandal for you to buy.
The Napali Sandal is very lightweight yet very comfortable. This is a sandal that was made with hiking in Hawaii in mind, and the foot-hugging design offers superior comfort while the rugged outer sole gives you an excellent grip on any kind of surface. The soft and flexible straps will hug your foot without rubbing your skin, and you will be able to get the perfect fit adjustment with ease when you choose these sandals for your daily use.
This active lifestyle sandal by Viakix can be used for hiking, paddle boarding, camping, and more, and it is pretty enough to wear out to dinner as well. This is one of the best-looking and more practical sandals on this list, and there are few sandals that are this comfortable. The design of the Napali sandal is made to fit many different sizes of feet with ease, and you will love how these sandals fit right out of the box.
4.       Skechers Reggae Strappy Sandals
For a sandal that is fun and colorful but also durable and well-made, there are few choices better than this Skechers sandal. This sandal comes with a soft and cushioned footbed and the instep strap gives you quick access for easy adjustments to your comfort and a simple slip on and off fit. The outer sole of this sandal will give you a great grip on any kind of surface and the interior sole is made to mold to your foot for precise and exact fit.
This is a very lightweight and comfortable sandal that offers a quality design as well as great looks. You will love that you get so much comfort from such a simple sandal, and the colorful and fun styling is an additional benefit that you might not be able to enjoy with other sandals of this style. For a simple but highly comfortable sandal, this is a great choice to make for your summer sandal needs.
Summer Sandals Should be Comfortable and Durable
If you have been looking at sandals that just don't seem like they will hold up to hiking, watersports, or camping, you need to take a look at these quality sandals. You will be able to enjoy all of your summer adventures in these well-made and durable sandals without having to worry about your sandals causing blisters, slipping off your feet, or causing your feet to get sore.
All of the sandals on this list are made to be very ergonomic and to fit perfectly right away so that you can enjoy your summer activities without having to struggle to break in your sandals at the same time. There are so many reasons that hiking and walking sandals can be your new favorite summer footwear and these are attractive shoes that can be used for more than rugged adventures. If you are ready to be comfortable all summer long, these are the right sandals to add to your closet.