What is Scott Disick's Net Worth?
Scott Disict is a reality television personality, actor, model, and entrepreneur. He is notably known in the reality series Keeping Up with the Kardashians and the father of Kourtney Kardashian's three children. He also appeared in the spinoffs of Keeping Up with the Kardashian.
Scott enjoys his popular reputation for living lavishly like wearing expensive and trendy clothes. He also loves to carefully choose his wristwatches.
Scott Disick has a net worth of $45 million. He earns $4 million per year. 
Early Life and Career Information
Scott Michael Disick, also known simply as Scott Disick, was born on May 26, 1983, at Eastport, New York, to parents Jeffrey and Bonnie Disick. 
His father, Jeffrey Disick was a real estate developer. His grandfather, David Disick, was also a real estate developer who developed luxury properties. Sadly, Scott's parents both died at the age of 63. His mother died in 2013, and his father died in 2014. Scott was very close to his mother, Bonnie. 
Scott grew up in Long Island and was raised Jewish. He attended a private school, The Ross School, in East Hampton, but he did not graduate. When Scott was 18 years old, he was arrested and charged (non-criminal) for driving while impaired.
As a teenager, Scott Disick was a book cover model for the Heartland series.
From 2005 to 2015, Scott dated Kourtney Kardashian. In 2007, Scott began appearing on the reality series Keeping Up with the Kardashian. He then appeared on every season of the reality show. In the early seasons of the show, Scott was known for wearing suits.
In 2009, Scott appeared in the spin-off of Keeping Up with the Kardashian, Kourtney, and Kim Take Miami. Scott starred alongside Kourtney and Kim Kardashian. In one of the episodes, Scott was criticized for hunting an alligator so that he could make a pair of shoes. The spin-off ended in 2013.
In 2011, Scott appeared in the second spin-off of Keeping Up with the Kardashian, Kourtney, and Kim Take New York. He starred alongside Kourtney and Kim Kardashian. In the second season of the spin-off, Scott opened a Japanese restaurant called Ryu in New York's Meatpacking District. His restaurant opened in 2012, but unfortunately, it received poor reviews, and shortly after opening the restaurant closed down.
In 2012, in one episode of the reality show Keeping Up with the Kardashians, Scott bought land and purchased an online knighting ceremony, and named himself Lord. Also in 2012, he was a judge on Miss Universe. Again, in the same year, he was featured on an episode of Pink'd.
In 2013, Scott started a web series entitled Lord Disick: Lifestyle of a Lord. It is a spin-off of Kourtney and Kim Take Miami. The series features the lifestyle of Scott Disick and at the same time, Scott provides the viewers with tips on how to live a lavish lifestyle.
In 2014 and 2015, Scott appeared in another spin-off, Kourtney and Khloe Take the Hamptons. Scott starred alongside Kourtney and Khloe. In the series, it followed the sisters as they opened a pop-up store, and they attended events like the Baby Buggy Summer Dinner. Also, Scott struggled with anxiety as the location of the series is close to where he grew up, and it reminded him of his parents who recently died.
Aside from appearing in the reality series and spin-offs of Keeping Up with the Kardashians, Scott made several appearances in different reality shows such as Kingin' with Tyga, I Am Cait, Rob & Chyna, Wild 'n Out, Kocktails with Khloe, and Dancing with the Stars.
In 2015, Scott began developing properties. It was in 2019 when he began his reality show which he starred in, Flip It Like Disick.
Not only did he make guest appearances in reality shows, but he also made club appearances. He appeared at 1OAK nightclub in Las Vegas, LEX Nightclub in Reno, and Harrah's in Atlantic. His guest appearance has earned him $80,000 to $250,000 per appearance.
In 2018, Scott developed his clothing line called Talentless. His clothing line primarily sells casual clothing such as T-shirts, sweatshirts, and sweatpants. 3% of every sale of Talentless goes to the non-profit organization, Fuck Cancer. In 2020, his company received criticism as being insensitive after they released apparel that stated "Please wash your hands" amid the Covid-19 pandemic.
Scott Disick has other business ventures and partnerships. When Scott was asked about whether he had a career, he responded that he made a lot of money and has invested and ran multiple companies in the vitamin world such as QuickTrim, Rejuvacare, Monte Carlo Perpetual Tan. Back on June 17, 2013, Scott was featured in the marketing short film by Kanye West's creative content company DONDA. Scott played Patrick Bateman from American Psycho. He was featured in a hip-hop skit track on Student of the Game titled Scot Disick Speaks by N.O.R.E. Also, Scott made a guest appearance on two episodes of the online soap opera Youthful Daze as Jim.
Scott also posts sponsored ads on Instagram which he makes around $15,000 per episode.
Scott Disick Awards & Achievement
Scott Disick hasn't gotten an award. But as far he has shown people that he has achieved a lot by investing and running companies in the vitamin world.
Why is Scott Disick Rich?
Before becoming famously known and having his net worth increased massively, Scott Disick did come from a well-off family.
His grandfather was an attorney and developed luxury properties. Scott's father also got into the real estate business. At such a young age, he became a book cover model for the Heartland series. 
He dated Kourtney Kardashian and has appeared in all seasons of the reality show Keeping Up with the Kardashian. Entering the reality show has increased his net worth. In addition to appearing in reality shows, Scott Disick has invested in several business ventures such as a clothing brand called Talentless, investing in nightclubs, and running multiple vitamin companies such as QuickTrim, Rejuvacare, Monte Carlo Perpetual Tan.
Why is Scott Disick so Famous?
Scott Disick is most famous and notably known for starring as the main character in the reality show Keeping Up with the Kardashians, and its spinoffs.
His popularity has led him to the development of his show, Flip It Like Disick. He has made guest appearances in several reality shows. He has created his clothing line, Flip It Like Disick. 
Scott is also famous for having an alcohol addiction problem. Scott has been in and out of rehab several times.
Another event in Keeping Up with the Kardashian that featured Scott was when Michael Girgenti filed a paternity lawsuit on Kourtney Kardashian in 2013. Michael claimed that he was the real father of one of the children of Scott and Kourtney. However, it was proven as false when Scott took a paternity test himself. The result revealed that Scott is truly the father of his children with Kourtney.
Scott Disick House and Cars Collection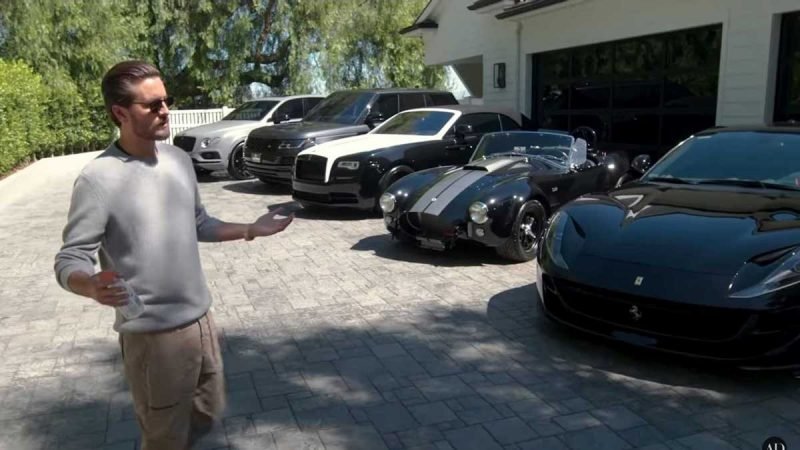 Besides being famously known as the boyfriend of Kourtney Kardashian, Scott Disick has seriously good taste in design and cars. When the Architectural Digest did a tour of his home, you would see how gorgeous his house is.
The farmhouse is a massive and open home with hidden walls. It has an infinity pool and a home theatre. However, the best feature of Scott Disick's home is the garage. Scott Disick has seriously good taste in cars.
Scott Disick has a pair of luxury child haulers, a Range Rover, and a Bentley Bentayga. The luxury child haulers have more than 1000 horsepower which is nicer and faster.
You will also see that he has a $350,000 convertible palace Rolls Royce Dawn. The Rolls Royce Dawn has a 563 horsepower V12 engine.
He has a Ferrari 812 Superfast. His Ferrari 812 has nearly 800 horsepower and a naturally aspirated V12. 
The best of his collections is his Shelby Cobra. Scott Disick has a proper Shelby Cobra which means that it is not a continuation model, a certified replica, or a rebadge. 
Famous Quotes by Scott Disick
Scott Disick is someone who knows what he wants and goes for it. He has graced the audience with some of the reality series Keeping up with the Kardashian's funniest moments. He is also known as the king of sarcasm and one-liners. Here are some of his famous quotes so far.
"Didn't You Get Married Like Both Times After A Couple Months?" – Scott made this comment as a reminder to Kim who gave her mother, Kris, some advice about not taking the relationship too fast and taking it slow.
"Thank God, you wouldn't have been able to afford it."- This sarcastic remark was made when Kim received a free yoga membership and got excited about it.
"If you guys lose your butts, we may all lose our money". – When Kim stated that she wanted a flat a** Scott reminded her that if they were to change their butts, so would their money and fame. 
"You guys haven't seen anything long and white go in your direction in a long time." – This Scott Disick quote remains one of the funniest. Scott made this remark when he made fun of the dating preferences of the Kardashian which is often sportsmen of color. Kris and Kim got scared by a spider which turned out to be an iPhone charger.
"You know I've realized that I'm probably just perfect, and it's everybody else around me that's got issues." – This Scott Disick quote was when the family went into an emotional process regarding the transition of Caitlyn Jenner. Scott decided to lighten up the mood and made this comical comment.
"Oh look, it looks like the Kardashian sisters."  Scott Disick and Rob Kardashian visited an art museum. Scott found a painting of witches and described it as the Kardashian sisters. The comment made fans of the show laugh at his audacity to make such a joke.
He has made more famous quotes such as:
"You don't respect my religion, I don't respect your outfit. You have no back and you look like a bumblebee."
"People who say 'real men don't wear pink' obviously don't know any real men."
"I never thought I'd be in a family that has more people than a small country."
"By no means do I want to be responsible when I'm so-called working."
"He's doing unbelievable. He was just getting out of college and became famous quickly, and I think it was a lot to handle, and I don't think that was the path he exactly wanted to be on. He just got caught in the middle of it. He had to take some time off, you know, he was a little down and out. But he's doing a lot better and he's very happy. He's one of the greatest guys I know with a great heart and just an amazing guy all around."
"Life was a little crazy for a while and I needed to take a breather. I spent some time in a nice place in Malibu. Kind of reaching out for my head over my shoulders and restarts in life. Sometimes you need a little bit of a time out."
"I don't think anything is ever simple, trying to make the best of it and life goes on. Things aren't easy, but we are doing very well right now, and I'm just happy we can be on good terms at the end of the day."
"I never thought a lot of things were going to happen the way they did. So I don't rule anything out, I don't have plans in my mind of what's going to happen so, you know if things are meant to be they will be."