Who Is Ethan Edward Klein?
Ethan Klein is an Israeli American who is known for his YouTube channel H3H3Productions together with his wife, Hila Klein. Most of his content on his primary YouTube channel comprises sketch comedy and reaction videos in which they satirize internet culture. 
What is Ethan Klein's net worth?
As of this year, Ethan Klein has an estimated net worth of around $20 million. Since he has one of the most well-known podcasts in the United States, he's able to appeal to a lot of extremely lucrative sponsorship deals. 
Ethan and his wife also have a couple of real estate properties. Their major purchase is a huge estate in California. According to reports, the property costs $9 million.
Edward Klein Early and Personal Life
Ethan Klein was born on June 24, 1985, in Ventura, California. He spent his high school years at Buena High School. He then earned his Bachelor of Arts degree in English literature at the University of California, Santa Cruz. 
Ethan's wife, Hila Klein, was born in Israel. In September 2019, Hila became a naturalized citizen in the United States. Hila is also Moses Hacmon's younger sister. 
Ethan met Hila in Israel in 2007. During that time, Hila was serving in the Israel Defense Forces. After a couple of years together, Ethan married Hila in 2012. 
Ethan and Hila both lived in Israel together during the early years of their YouTube career. However, they both moved back to the United States after several years. 
For 3 years, Ethan and Hila resided in Tel Aviv, Israel. In 2015, they both decided to move to Los Angeles. 
The couple's YouTube channel "H3H3 Productions" started in 2011. It has become a huge hit on the internet due to its funny content. The videos include criticizing recent celebrities and online trends. 
As of today, the channel has around 6.38 million subscribers. The total view count of Ethan's podcast is around 525 million. 
Ethan and Hila have a baby boy named Theodore Yochanan. Theodore was born in 2019. Hila and Ethan also announced that they are expecting another baby. The couple announced it in an episode of one of their podcasts. 
In 2016, an American YouTube personality named Matt Hosseinzadeh (also known as Bold Guy and MattHossZone) filed a civil action against the couple due to copyright issues. 
According to Hosseinzadeh, he first contacted the couple to ask them politely to get rid of his content from their video. However, the couple refused to do so. 
According to Hosseinzadeh's lawyer, the couple's video utilized more than 70% of Hosseinzadeh's content. However, it does not contribute anything to him. 
The following month, H3H3 Productions released a video about the issue. However, Philip DeFranco, another YouTube personality, started a fundraiser on GoFundMe. The purpose of the fundraiser is to raise money for their legal fees, stating the necessity to protect fair use on YouTube. The fundraiser was able to raise $130,000.
In May 2016, the couple announced that the money from the fundraiser will go into an escrow account called the "FUPA" (Fair Use Protection Account). Morrison and Lee LLP will oversee the money to be used to help individuals defend fair use.
Ethan and Hila won the lawsuit against Hosseinzadeh. According to Katherine B. Forrest, the judge, the commentary video of the couple established fair use as a matter of law. According to the judge, it is a quintessential criticism and comment. 
This was the first type of case that was given a judgment. Though it doesn't bind throughout the United States, it offers a huge and persuasive argument to be cited in cases down the line regarding the fair use of the platform.
About H3H3Production's YouTube Channel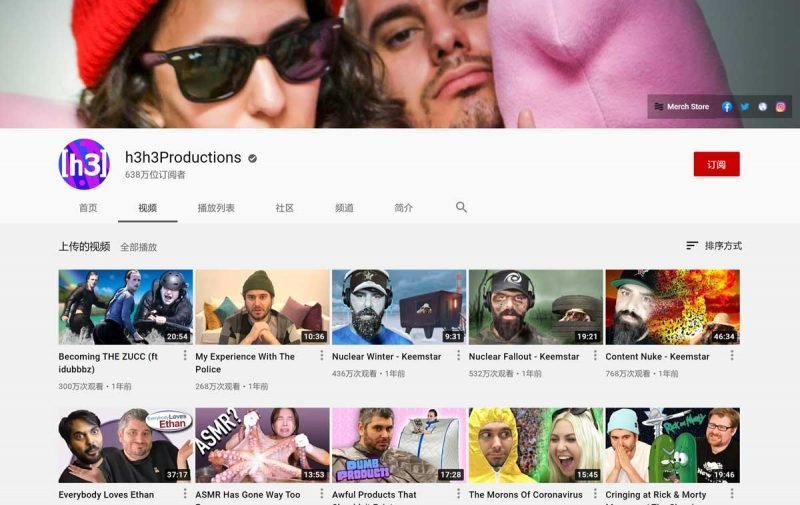 Together with his wife Hila, the couple started their YouTube channel "H3H3 Productions" in 2011. The focus of the channel is to create reaction videos particularly based on online culture. 
However, they do it with a twist. The couple adds sketch comedy and uses satire approaches to create reaction videos. Their channel has greatly grown over time. That is why they are one of the most well-known YouTubers out there.
The couple's main channel has more than 6.4 million subscribers. 
After several years, Ethan and Hila focused their attention on their podcast called "H3 Podcast". As of now, the podcast has almost 3 million subscribers. 
Their critique about the various online trends and the current world affairs have gathered a lot of fans all over the globe. Unfortunately, their videos and podcasts also created a lot of controversies. 
Ethan is known for not backing away from stating his opinion. That is why a lot of people do not completely appreciate him. 
In 2020, the couple's podcast was one of the most well-known podcasts in the United States. In fact, it ranked 23rd in the US. 
Ethan also has another series of his podcast called "Frenemies". In this series, Ethan has a co-host named Trisha Paytas. 
The show gained a lot of fans since there are a lot of debates and arguments among the two regarding a variety of topics. 
Unfortunately, Trisha decided to leave the show due to some differences. She uploaded a couple of videos on YouTube where she explained what happened. Trisha also accused Ethan of a couple of things. 
From the videos that Trisha made, Ethan felt that Trisha is accusing him of sexual harassment, even though that is not the case.
People can also see Ethan regularly as part of various controversies. 
How Much Money H3H3Productions Makes on YouTube
As of 2021, H3H3 Productions has over 6 million subscribers. Since 2011, the channel has collected more than 1.5 billion views. 
In a single day, the channel accumulates an average of 120,000 views throughout all of its videos. This means that the estimated revenue of the channel is $960 per day from the ads alone. That is around $350,000 per year. 
Aside from the main channel, the couple's podcast channel has more than 2.3 million subscribers. It also has around 540 million views. 
On average, the H3 podcast accumulates 570,000 views each day from various sources. This means that the estimated revenue of the podcast channel is $4,600 per day from the ads alone. That is around $1.6 million per year. 
In addition to that, the couple also has another channel that uploads the highlights of their podcast. This channel has around 750 million views. On average, it accumulates 350,000 views each day. This means that the highlights channel has an estimated revenue of around $1,400 per day. That is around $500,000 per year. 
However, due to shorter videos, the highlights channel only gets less income through ads. 
According to statistics, YouTube content creators based in Australia, Canada, United Kingdom, and the United States get paid $2 to $12 per 1000 monetized views in general. For those who don't know, YouTube takes a cut of the money. 
Typically, monetized views range from 40% to 80% of the overall views. Every single one of these is affected by a couple of factors. 
This includes the type of content, ad engagement, form of ads, how many viewers skip the ads, how many ads there are on the video, ad inventory, location of the viewer, time of the year, the device played on, and much more. 
The cost of one view of an ad depends on the auction between advertisers based on views. The minimum bid for an advertiser per view is around $0.01. 
Another thing to consider is that there is another program where YouTubers can earn money. This program is called "Google Preferred". This program allows advertisers to target ads on the most viewed content of a channel. 
Compared to regular ads, the ad rates in Google Preferred are higher. 
Aside from ads, YouTubers also generate additional revenue from YouTube Red viewers. These people pay a fee every month to watch premium content on the platform without ads. 
In YouTube Red, YouTubers are paid depending on their watch time. This means that they will earn more if their viewers watch more of their content.
Thus, if you consider every single factor, the daily income of the couple is $4000. In addition to that, H3H3 Productions also streams on Twitch. Their channel has around 550,000 followers on the platform. 
The price plan will vary for a lot of users. However, H3H3Productions usually earn from all the donations, cheers, and streaming subscriptions from their loyal fans. 
How Ethan Klein Spend His Money
When it comes to spending his money, Ethan chose to invest it in real estate for the future of his family. On the other hand, his wife invests it for business to maintain the fund of the family. 
In addition to that, the couple has spent some of their money to give back to their fanbase by raising and donating to charity organizations. 
A lot of other well-known personalities also collaborate with the couple for philanthropic deeds. 
In 2019, the couple spent $9 million on a huge mansion in California. 
Ethan and Hila, together with Dana Terrace, Alex Hirsch, and Justin Roiland donated more than $200,000 for direct relief for victims of Hurricane Harvey in Texas. 
Favorite Quotes from Ethan Klein
Ethan Klein, together with his wife, is known for their reaction videos. They consistently upload new videos on their channels to keep up with their strong and loyal fanbase. 
Since they're constantly talking about different topics, there are a couple of quotes from Ethan Klein that people loved the most. Some of these quotes come from his social media pages, such as Instagram, Twitter, and Facebook. However, most of them come from his YouTube Videos and Podcasts. 
"Do whatever it takes so we can all just accept the results and move on."
"So if that means you can't go to a movie theater or a ball game because you choose not to get a vaccine, then that's your choice." 
"Girls that like average looking guys make the world go round, accept it!"
"Condolences to everyone who wasted their Saturday night watching that Jake Paul fight."
"Healthy people take the vaccine to protect other people, not themselves."
"I can't get enough of these free-thinking conservatives who think our democracy is about to collapse because one fucking cop was finally held accountable."
"I am hearing reports that I may be losing weight."
"Is your water even pH10?"
"Joe Rogan should be more concerned with the long-term effects of alpha brain and DMT than a clinically trialed vaccine."
"With peace and love, it's kind of a bad take. Just because she was trying to be pleasant on the trip doesn't mean what she said didn't happen.."
"This pandemic is over when Mcdonald's goes back to selling the egg McMuffin at any hour" 
"Healthy young people DEFINITELY SHOULD get the vaccine. That's how we stop the spread. Not rocket science, guys. It's about returning to normal and saving lives."
"People will call you an SJW for being against violent hate crimes… stand up for what you know is right and forget whatever anyone else thinks." 
"Tbh, there are times in my past I've been insensitive & ignorant on trans issues. I've learned so much since & pledge to be an ally.." 
"Research shows that vaccinated people are 100% hotter" –
"Going up the stairs is like losing a child; it never gets easier."
"Thought it'd be interesting to see what stands out to the rest of you all. –
"When u get the big papa tip, learn from it" –
"This is what real helping the homeless looks like. It's not glorious. It's not beautiful. It's a choice."
As you can see, these are short quotes coming from Ethan Klein. Some of them are serious, while others are funny. Even though it might appear like Ethan is joking, you can see that he is serious about what he's talking about. 
As a YouTuber who faced a lot of controversies, people can learn a lot from his journey. If you want to learn more about Ethan, you can always watch his channel for content.