Whether you love Disneyworld in Orlando or prefer Disneyland in Anaheim, one thing is for sure:
Every Disney Park is a magical place!
And it's the kind of magic that doesn't fade away with age.
It doesn't matter how old we get. Disney characters and Disney stories are near and dear to our hearts! But there is an age at which decorating your home with Disney princess décor becomes a bit of a faux pas.
Looking for a cool way to bring some Disney spirit into your home?
Here are nine Disney home décor products for adults that will make your house feel more magical.
Disney Patent Poster Prints
These Vintage Patent Poster Prints are the perfect way to bring some understated Disney style into your home. They're also ideal for displaying in an office, especially if you work as an architect or engineer.
These prints come in a set of six and feature a variety of Disney schematics. The Pirates of the Caribbean ride, Cinderella's Castle, and the Matterhorn bobsleds are but a few of the unique prints in this set.
Plus, the neutral color makes them easy to coordinate into any home with modern, vintage, rustic, or industrial décor.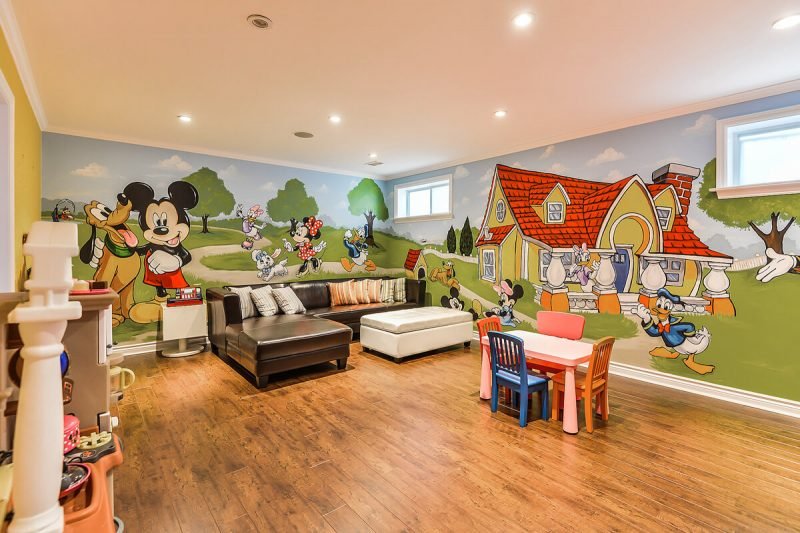 Alice in Wonderland Framed Wall Art
Ready to tumble down the rabbit hole?
Whimsy and wondrous spirit combine in this Alice in Wonderland Tea Time Wisdom Wall Décor. With a wood frame, this print reminds us to dream bigger, stay weird, and be adventurous. It's all those childhood life lessons that we can't afford to forget as adults!
Prop this framed print up on a bookshelf in your living room or mount it on the wall in your home office or bathroom. Alice in Wonderland has the uncanny ability to inject magic and wonder into any space.
Mary Poppins Trinket Tray
Supercalifragilistic … you know the rest! If you grew up wishing that Mary Poppins was your nanny, you're sure to love this Parrot Head Umbrella Trinket Tray.
This trinket tray won't make it possible to jump into sidewalk chalk painting, but it will add some Mary Poppins magic to your life. The small size makes it ideal for holding everything from jewelry to keys to spare change. Place it on a table in your entryway, in your bathroom, or anywhere else needing a touch of whimsy.
Be Our Guest Pillow
Looking to embrace your Disney spirit subtly?
The Be Our Guest Pillow is an understated way to show your love for Belle and Chip. Only a true Disney fan will pick up on the Beauty and the Beast reference.
This pillow features a soft linen cover that makes it easy to toss in any spare bedroom decorated with vintage, farmhouse, or rustic décor. It's neutral, and it's comfy — the perfect way to welcome any guest into your home for the night.
Mickey Mouse Cheese Board
With a natural, rustic look, the Mickey Mouse Cheese Board coordinates with all types of kitchen décor. Perfect for serving cheese and charcuterie, it's made from durable wood and has a hidden panel that holds three stainless steel tools.
A hard cheese knife, a cheese fork, and a chisel knife make it easy to cut and serve all sorts of cheeses. Each one has a sturdy wooden handle decorated with iconic Mickey Mouse ears.
Fantasyland Photo Frame
Hidden Mickey icons and a tiny Cinderella's castle make the Fantasyland Castle Photo Frame an elegant addition to any room in the home. Because the castle and Mickey ears are so discreet, most people won't even realize that it's Disney décor!
Measuring 5" x 7", this frame is ideal for displaying a wedding photo, a special family memory, or a pic of your own Prince Charming. Place it on a hall table, a shelf in your living room, a bedside table, or anywhere that needs a touch of fantasy and romance.
Fairy Godmothers Ornaments
If you are a Sleeping Beauty fan, you're sure to adore these Flora, Fauna, and Merryweather ornaments. These ornaments will definitely bring magic into your home in their iconic blue, red, and green dresses and pointy hats. They might even offer you a sense of peace and protection!
You can hang the fairy godmother ornament set on a Christmas tree, but you can also hang them anywhere at any time of year.
Each one features a sparkling ribbon string, so you could dangle them on pegs above a doorway. You can hang them in a window in your bedroom or office. You can string them up over your desk to bring some color and cartoon inspiration into your workday.
With these fairy godmothers, the possibilities are endless.
Snow White Hand Grenade Poster
Looking for a cool, edgy way to show that you're a true Disney fan?
The Snow White Hand Grenade Poster gives a classic Disney princess a whole new look.
This poster print features Snow White holding a hand grenade and wearing a bandana over her pretty face. It's perfect for anyone who loves Snow White or loves street art and graffiti. In the iconic movie, Snow White was as wholesome as could be, but this print shows that maybe she does have a dark side …
Funko POP Cinderella Figure
Add some Disney princess magic to your desk with the Funko POP Cinderella Figure. Wearing her classic blue ball gown, this funky vinyl figurine shows that you're a Disney fanatic in an unexpected, modern way. She's small enough to place anywhere, and she's sure to bring a bit of fairytale joy to any room.
This Cinderella figure is just one in a series of dozens of Disney Funko POP characters.
You can build an entire collection of vinyl figures, including:
Elsa
Snow White
Belle
Merida
Mulan
Cruella
Stitch
And even some obscure characters, such as Mr. Toad and the Blue Fairy from Pinocchio.
Conclusion
Disney magic is a real thing, and it has the ability to make anyone of any age feel like a kid again. But that doesn't mean you need to decorate your home like a child.
The glittery Frozen throw pillows and the polka dot Minnie Mouse bedspread are fine for a kid's room. But when it comes to your adult spaces, we prefer decorating with Disney in a more unconventional way.
Author bio
Caitlin Sinclair is the Property Manager at Dixon Place with five years of property management experience and many more in Customer Service. She shares her passion for her community and looks forward to making Dixon Place the place to call home.