30-Second Summary
Losing weight can be difficult for women because their bodies experience various hormonal changes before and during menopause.
To lose weight quickly, you need to maintain a calorie deficit. This means that you need to burn more calories than you consume.
Weight loss meal plans offer a fixed diet plan that is rich in nutrients and low on calories.
Diet plans allow you to lose weight without compromising your health.
Some of the popular weight loss plans are plant-based diets, Weight Watchers plan, DASH diet, Mediterranean diet, and low-carb diets.
You can pair your meal plans with exercise and weight loss supplements for even faster results.
Introduction
Weight loss can be an uphill ride for everyone, but particularly for women, considering the frequent hormonal changes they go through. While you may gain weight quickly, losing it might take much longer. This is because it is easy to consume calorie-dense food, and it can be hard to maintain a caloric deficit. Weight loss meal plans come in handy when you are trying to lose weight.
One of the best health tips for women who are struggling with weight loss is to follow a diet that is low in calories but high in nutrition. However, striking this balance can be tough, as not all of us are well-versed in meal planning. Tried and tested diet plans can come to your rescue in this case. So, here are the best diet plans you can follow to lose weight quickly.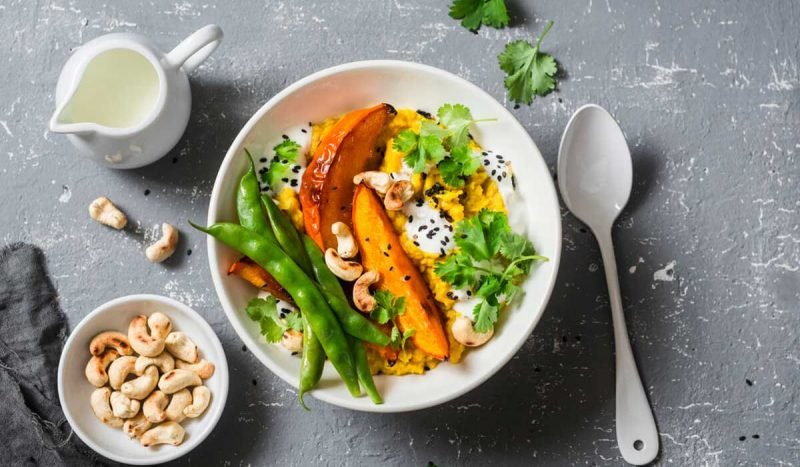 5 Effective Weight Loss Meal Plans for Women
Vegan Diet – A vegan diet only allows plant-based meals that do not contain any animal products like meat or dairy. This diet plan relies heavily on fruits and vegetables for meeting the daily nutritional needs. Since these vegan foods are not high in calories, they can aid in weight loss. According to studies, vegan or plant-based diets promote weight loss in obese or overweight individuals. But for the best results, you should stick to low-calorie vegan foods and avoid calorie-dense vegan snacks like chips and cookies.
Mediterranean Diet – The Mediterranean diet is inspired by the traditional diets of the natives of Greece, Spain, and Italy. Owing to the good health of the people of this region, it has gained popularity around the globe. It relies heavily on fruits, vegetables, grains, and healthy fats, like olive oil, nuts, and fish. Furthermore, it does not support the consumption of heavily processed foods. Based on studies, the Mediterranean diet is effective for weight loss and fat reduction. So, you can try it out to burn fat while improving your overall health.
DASH Diet – The DASH diet or the Dietary Approaches to Stop Hypertension encourages meals that are abundant in vegetables, grains, and lean protein. It discourages the consumption of red meat and foods rich in salt or sugar. The diet will eliminate calorie-dense foods from your meals, thereby encouraging weight loss. You can also pair it with the top-rated weight loss supplements for quicker results.
WW Diet – The WW diet or the Weight Watchers Diet is a weight reduction program, where each food item is assigned some points. You are only allowed to consume foods summing up to a fixed number of points in a day. Thereby, this diet ensures that you do not breach the calorie limit for the day. WW diet is quite user-friendly as you do not need to look up the calorie content of your food and follow the point system. Further, studies have found that people on this diet can lose weight faster compared to control groups.
Low Carb Diet – One of the top health tips for women trying to lose weight is to eat fewer carbs. The Low Carb Diet is based on this ideology. It disallows the consumption of food that is rich in carbs, such as sugary or starchy foods. Instead, it encourages you to eat more protein and healthy fats that will keep you full for longer, encouraging weight loss. This diet is easy to follow and can offer quick results.
FAQs About Weight Loss Diets for Women
Are Weight Loss Diets Really Effective?
To lose weight, you need to consume fewer calories than you burn in a day. Weight loss diets help you maintain this calorie deficit without compromising on nutrition. They eliminate calorie-dense and low-nutrition foods and encourage the consumption of nutritious foods that are low in calories. These diets can help with weight loss. For faster results, you may pair them with daily exercise or top-rated weight loss supplements.
Do Weight Loss Supplements Actually Work?
Modern weight loss supplements are formulated, keeping their efficacy and safety in mind. They contain ingredients that suppress appetite, burn fat, and boost the body's metabolism. They may help you lose weight faster. For example, the supplement Burn Evolved contains coffee, cayenne pepper extracts, and other natural ingredients known to encourage weight loss. Almost every Burn Evolved review appears to be positive, and consumers have witnessed weight loss after using the product. So, you may explore this product and find out if it suits you.
How to Lose Weight During Menopause?
Menopause and weight gain go hand in hand for many women due to the hormone fluctuations and metabolic changes in the body. To avoid weight gain during menopause, stick to an active lifestyle and a healthy diet. You can try any of the top weight loss meal plans for women – they will ensure good physical health along with weight reduction. Keep your calorie consumption in check, and you should be able to avoid weight gain during this phase.
How Do You Lose Weight Quickly Without Exercise?
If you are unable to exercise for some reason, maintain a calorie deficit in your diet to lose weight. Weight loss is largely dependent on how many calories you consume and burn. So, if you lead a sedentary lifestyle, you will need to reduce your calorie intake even further for weight loss. Apart from this, you can try weight loss supplements to boost your metabolism and burn fat faster. Each Burn Evolved review has things to say about this supplement.
Conclusion
Losing weight can be tricky, especially for women dealing with hormonal changes, menopause and weight gain, at the same time. The extra calories may pile up quickly but take several months to burn. The best way to get rid of the extra weight is to follow a diet plan that is sustainable for you. This means that the meal plan should contain food items that you like so that you can follow the low-calorie diet for several months.
With so many effective weight loss diet plans for women, you should find one, which suits your liking and lifestyle. To get even faster results, pair your diet with daily exercise. You may also look into weight loss supplements to give a boost to your metabolism.
If you practice these tips to lose weight quickly, you should be able to shed the extra pounds. So, start following a weight loss meal plan today to see the results for yourself!
References:
[1] https://www.ncbi.nlm.nih.gov/pmc/articles/PMC5466943/
[2] https://www.ncbi.nlm.nih.gov/pmc/articles/PMC5916888/
[3] https://www.ncbi.nlm.nih.gov/pmc/articles/PMC3145588/