In the gaming world, puzzle games have always been a popular genre. Puzzle games have progressed from simple picture rearrangement games to good storylines and graphics games as smartphone usage has increased. However, with tens of thousands of games accessible on the Google Play Store and Apple App Store, finding truly fun and good puzzle games is difficult. 
If you want to know about the top Jigsaw Puzzle Apps that are best for the Android and iOS versions, you have to stick to this article.
Jigsaw puzzles are a one-stop-shop for cognitive growth and character development. These are one of few educational experiences that have the ability to teach such a diverse range of cognitive skills, as well as other important skills like patience and perseverance. These abilities can be beneficial to your children at any stage of their lives. Jigsaw puzzle apps are entertaining and educational, challenging young minds while also teaching and preparing them for essential life skills. You can find the list of the best 10 Jigsaw Puzzle Apps for Android and iPhones.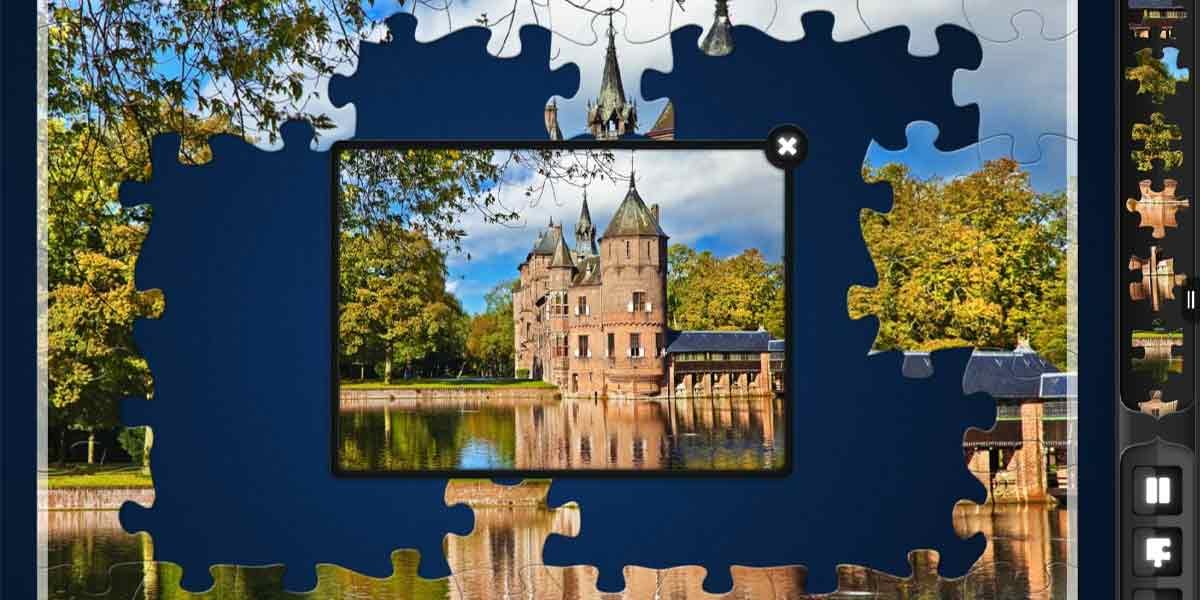 About Jigsaw Puzzles
A jigsaw puzzle is a kind of tiling puzzle that necessitates the correct assembly of blocks or interlocking cut off pieces. The puzzle is frequently seen as a high-society pastime. It started off as a very simple interlocking game, but as technology advanced, the prices dropped. It was made by painting or drawing on a rectangular, flat piece of wood. It's a fantastic game for puzzle fans of all ages. You can find hundreds of puzzle games that are available over the internet for different age groups. It is the most popular brain-storming exercise to do for better concentration.
Top 10 Jigsaw Puzzle Apps for Android and iOS 
You can find the details about the top 10 listed Jigsaw Puzzle Apps that most people like to download on their Android or iOS smartphones. So, have a look here:
1. Microsoft Jigsaw
Microsoft Jigsaw is a free jigsaw puzzle app for Windows tablets and laptops that may be controlled with a mouse or a touchscreen. Complete puzzles to unlock themed puzzle collections, which may then be purchased with in-game cash earned while playing. You may also make your own puzzles by using an image from your device or by snapping a snapshot.
2. Kids Jigsaw Puzzle
The Kids Jigsaw Puzzle app is aimed at children who want to play with jigsaw puzzles, as well as their parents who are tired of cleaning the pieces, searching for missing elements, and comforting their children when the missing ingredient is not found. Simple shapes such as triangles, squares, and circles are used in the app's early puzzles. Then, you can move to the next tough level.
3. Jigsaw Puzzle Epic
Jigsaw Puzzles Epic is a fun jigsaw puzzle game for Android and iOS that features over 8000 puzzles to solve. That should keep you occupied for a while. Rather than selecting random events and items, the app takes inspiration from the real world and provides real-life locations and sceneries. In this manner, your child will pick up a few new skills. There are several levels of complexity, and some jigsaw puzzles have over 600 pieces to assemble. 
4. Architecture Jigsaw Puzzle
Architecture Jigsaw Puzzles is a free jigsaw puzzle game that is simple to use and enjoyable for the entire family. Architecture Jigsaw Puzzles contains a variety of unique gaming features, game styles, and modes, as well as a large number of jigsaw puzzle themes, all of which are meant to bring hours of fun for people of all ages. 
5. Jigsaw Puzzle+
Jigsaw Puzzle+ is a puzzle game for iOS devices. This software provides users with colorful photos to finish from a variety of topics. Jigsaw Puzzle Plus allows players to customize the puzzle's size and difficulty level. It is free to use and takes up 48.2 MB of disc space. Rotz Games is the publisher of this app. The expert level of the puzzle is enjoyable for the typical puzzle solver, but average for the experienced. One can go to the next level, which has 1024 pieces.
6. Jigsaw Puzzles
Jigsaw Puzzles is the best jigsaw puzzle app for Android and iPad, and it's free to download. The Jigsaw Puzzles Real Free app has a variety of puzzles ranging from the beginning (9 pieces) to expert (1000 pieces). To answer the puzzle, the children employ critical thinking abilities, and, best of all, they are unable to cheat. In the App Stores, you may find a number of jigsaw puzzle programs that allow you to input your own photographs.
7. Jigsaw Box Puzzle
It's a puzzle game for iOS devices created by Sparkle App Limited. It allows the player to select from a variety of current puzzles in the game or to build their own photographs. It is unquestionably a fun game software. The nicest aspect about this game is that it allows you to personalize it by selecting a photo from your collection to solve and increasing the difficulty level.
8. Jigsaw Planet
Jigsaw Planet is a renowned website where you may play free online puzzles. Thousands of puzzles may be found on the website, which can be found on top lists or by searching in the toolbar at the top of the page. They can all be played in full-screen mode or within the browser window.
9. Ravensburger
Ravensburger is a German puzzle manufacturer that has been in business for almost a century. That's correct. They've been working on puzzles for longer than anyone I know. You can choose from 20 to 500 puzzle pieces, but that's not all. You can control several things, such as having the game sort your pieces around the border or edges exclusively or sorting them by color. It is quite a popular company for puzzle games.
10. Magic Jigsaw Puzzle
Over 20,000 HD images are included in the Magic Jigsaw Puzzles app, which you can solve in your spare time. You can use this jigsaw puzzle software because the photographs come from National Geographic Channel, Cartoon Network, and other sources. This makes them particularly enjoyable to tackle, particularly if you or your children enjoy cartoons. We can also have fun with our own photos that we've posted.