Smart door locks are a great way to secure your household and control who gets access even while you are away. Smart door locks can, however, be complicated to pick out. After all, you have to consider their security capabilities, integration with existing structures, and ease of installation while still sticking to your budget price.
With IoT-enabled smart door locks, the way we interact with locks has changed, and now keyless options are more secure than carrying around a physical key. This guide covers the top five best smart door locks of 2022: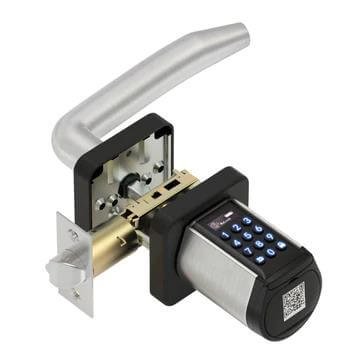 Top Five Best Smart Door Locks
Welock electronic smart door locks are suitable for doors with thicknesses ranging between 70mm to 110 mm. They are easy to install as they dont require any drilling. Just replace the existing standard lock cylinder.
With multiple ways to unlock the Lock smart lock, you can set up numerical key codes for individual family members, use RFID cards, or you can use their smartphone app.
The unit requires three AAA batteries with enough battery life for upto one year of use with an average of 10 operations per day. The electronic lock has electrostatic protection and a splash-proof IP65 rating in terms of safety.
Pros
Supports multiple unlock functionalities
Ships with removable batteries with upto one-year battery life
The firm offers a two-year warranty cover for the smart door lock
Cons
You need to buy a Bluetooth gateway if you need WiFi functionality
Ultraloq smart door locks allow you to control access to your doors from anywhere, anytime, through your smartphone. The smart door lock has a Wi-Fi bridge that you can configure to use your router's 2.4GHZ connectivity.
With the six in one keyless unlock functions, you can open the door with ease by either fingerprint ID, keypad code, smartphone, or use the mechanical key as a fallback in case the unit is unable to switch on,
You can set the auto-unlock and lock function to automatically detect when you arrive at the door and lock it after you leave by communicating with your phone. The smart lock is compatible with various voice control assistants such as Alexa and Google Assistant. It's also compatible with Apple watches and IFTTT.
Pros
The smart lock design is secure and durable, guaranteeing a more extended lifespan
The lock is easy to DIY install with just a screwdriver
Ships with 4 AA batteries are required to operate the smart lock
Cons
The hidden keyhole can be pretty hard to access when using the backup key
The Welock WiFi smart door lock offers convenience and state-of-the-art security features to keep your home secure. The lock supports six keyless entry modes such as IC cards, passcodes, smartphone app notifications, and NFC.
The Bluetooth and Wi-Fi-enabled smart door knob allows you to set up ten temporary codes for occasional visitors. You can manage all key codes from the smartphone app.
You don't require a locksmith to install this smart door lock, all you need is a screwdriver and a few minutes with the manual, or you can watch the instructional video online. The batteries included can replace them.
For the sake of discretion, the smart door lock relies on an anti-peep passcode design that makes it hard for anyone behind you from recognizing your passcode. Simply type in a few random numbers before or after your correct code, and the smart lock will automatically detect the right pattern while keeping your code secret from peeking eyes.
Pros
The smart lock works with smart speakers such as Alexa
Multiple keyless entry modes
Anti peeping password input
Cons
You need to purchase a separate WIFibox gateway to utilize the smart features fully
Welock's fingerprint smart door locks have a European standard cylinder design that fits perfectly in any apartment door without drilling. It has a fingerprint scanner that can recognize fingerprints in under 0.5 seconds and unlock the door instantly.
You can also use RFID cards, smartphones, and upto 100 fingerprints to unlock the door, with three of them designated as admin. This allows you to control who gets to add or delete new keyless entry codes and fingerprints.
This unit has an OLED display that shows the battery status, warnings, and settings options, and it will automatically notify you when the battery is below 20%.
Pros
Reliable and fast fingerprint recognition
Enough battery capacity to last one year with daily use
Cons
You need to purchase the wifi box gateway separately
If you are looking for an affordable and secure smart door lock, then the WeLock PCBD21 is the product for you. This smart door knob supports 6-in-1 entry options such as an IC card, keypad codes, smartphone unlock, NFC, and a mechanical key.
You can customize the user codes for each user and their time-based permissions. The visitors' records are also automatically synced up to your smartphone, and you can use the app to delete or issue new temporary codes.
This door lock is built to last, and it can withstand over 240,000 rounds of opening and closing with the included batteries powering it for up to one year.
Pros
The unit has a silent mode and auto-lock capabilities
super easy installation with just a screwdriver
Cons
You will have to buy a wifi box to unlock full smart functionality