Video marketing is a great way to market or promote any brand or service effectively. Videos work so well because visual representation makes it easy to understand things while offering an engaging environment to know what your brand is offering. But, if your video marketing process lacks something, it can take a toll on all your hard work while wasting time and money.
Therefore, you must ensure everything is in line and opt for proper video editing techniques to drive maximum online traffic.
It is estimated that more than 80% of marketing professionals consider video as the best marketing tool. This is because the viewers or consumers are more convinced about buying a product after watching a video. Plus, video content boosts the rate at which you get qualified leads per year. So, all these factors make video marketing an excellent choice. However, there is something more that you need to follow to get the most out of your video marketing plan.
Through this post, we will introduce you to the steps that will guide you on how video marketing can help your online business.
Knowing your goals
Determining your goals is one of the essential aspects of video marketing. When setting goals, ensure that they are specific, measurable, achievable, relevant, and time-oriented. The most common goals for an effective video marketing strategy include:
maximize the number of views
Promote brand awareness
Increased website traffic
Increase conversion rates and click-through rates
Increased social engagement via social media channels
While deciding your goals, it's necessary to figure out the purpose of creating the video. Whether it is for branding, promoting sales, or generating leads. Once you are clear on this aspect, it will become easy to spread your message through a video.
Researching the right audience
There are high chances for your video being a hit if you target the right people. When we say "determining the right audience", we mean that you should know who your audience is and what they like to see. You can easily collect information about your target audience using media analytical tools like Google Analytics. Besides, you can classify your audience based on factors like:
Location: Targeting audience based on different geographical locations.
Demographics: Targeting audience based on their occupation, gender, age, education, etc.
Psychographics: Identifying people based on their needs, lifestyle, interests, attitude, etc.
Now that you have shortlisted the target audience, it's time to know where they spend most of their time online? If your audience is more inclined towards Facebook, that's where you need to launch a video.
Create something engaging
Any video you create requires a script, characters, scenes, and direction. Therefore, begin with penning down the script in simple language and relatable statements that can help form a connection with the viewers. You must also ensure that your message is clear while focusing on quality.
Some of the tips for creating the most engaging videos are:
Create short yet engaging videos.
Keep the focus on the main message in your video.
Use attractive titles and captions.
Don't forget to mention a call to action (CTA). Such as like, share, connect, subscribe.
Generate high-quality content.
Use an online video editor that has plenty of templates and effects.
Use the right keywords.
Keep the description clear and concise.
Use high-quality audio and music.
Provide the viewers with the right information and tips.
Mention your website's URL to increase the traffic.
Keep variations with video types, don't get stuck with only one type of video.
Adding humor and fun always works.
Your product is the centerpiece of your video content. It's only right to highlight its custom packaging and the qualities that make it unique and outstanding.
The visual of the product and the whole presentation itself can do the talking.
Video types and social media platform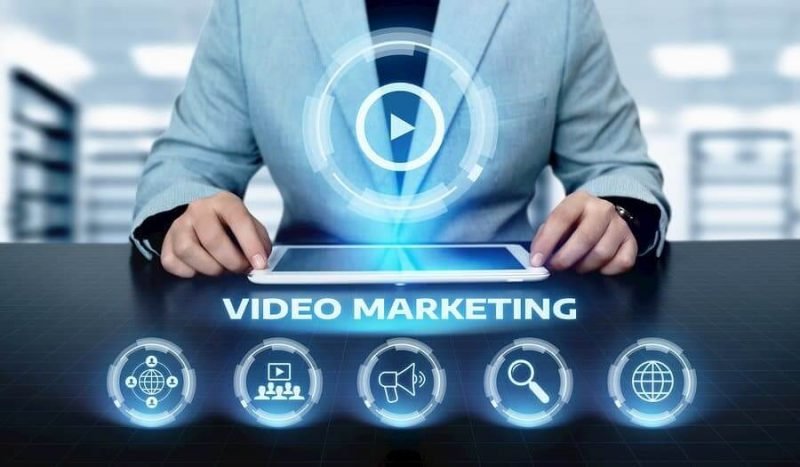 Your video content can be shared on various social media platforms for marketing purposes. Some of the best platforms to share your video content are Facebook, YouTube, Instagram, Twitter, LinkedIn, and so on. Depending on the kind of video you need to create for your product or services, choose the right platform.
YouTube is the best for long videos, educational content, and product demos.
Choose Facebook to share short and fun videos, with or without sound.
Teasers are suitable for Twitter.
Got micro-videos? Instagram works best.
LinkedIn is suitable for case studies related and informative videos.
Use Snapchat for funny video content.
Additionally, you also need to know the different types of videos you can create to promote your business. Also, avoid exceeding your video length beyond two minutes and utilize the first few seconds smartly to create the most engaging content.
The different types of videos are listed below:
Product demo videos
Live videos
Animated videos
360-degree videos
Tutorial videos
Brand videos
Educational videos
Event videos
Product review videos
Testimonials
Publish on multiple platforms
Your idea of creating a marketing video should not be restricted to a single platform. This is because if you share your video only on a single platform, there are very few chances of it getting noticed or getting high rankings. Therefore, you should publish your content on multiple social media platforms to drive more traffic and improve visibility.
Analyzing your campaign
Analysis should not be missed in video marketing strategy. Any video that you create gets analyzed based on the following.
Play rate: Percentage of people who clicked, played, and watched your video.
View count: Number of views on the video.
Social sharing: How many people are sharing your videos.
Watch rate: How much of the video is being watched. Keeping videos short increases engagement and watch rate.
Click through rate: Percentage of viewers who click on CTA and watch your other content.
Conversion rate: Rate at which the visitors are becoming customers. Offering the right and relevant information to viewers can help increase the conversion rate.
Conclusion:
It can be said that video marketing is the backbone of any business these days. Therefore, use it the most while opting for the right strategies to get the desirable outcomes from the video content you share to promote your brand!