Belcalis Marlenis Almanzar, popularly known as Cardi B, is a famous American rapper, songwriter, and entrepreneur.
Personal Details
Stage Name: Cardi B
Full Name: Belcalis Marlenis Almanzar
Gender: Female
Birthday: October 11, 1992
Place of Origin: New York City, United States
Age: 28
Height: 5 ft. 11 in.
Nationality: American
Sexual Orientation: Straight Female
Status: Married
Spouse: Offset
Profession: Rapper, songwriter, and entrepreneur
Total Net Worth: $30 million
Personal Life
Belcalis Marlenis Almanzar or Cardi B was born on October 11, 1992, in New York City, U.S.A. Cardi B is of Dominican, father side, and Trinidadian, mother side, descent. She has seven siblings. One of her siblings is the well-known Hennessy Carolina. 
Growing up, though she was raised in the South Bronx's Highbridge neighborhood, Cardi B spent most of the time in Washington Heights at her grandmother's home. Staying in Washington Heights gave her a thick accent. 
In High School, Cardi B went to Renaissance High School for Musical Theater & Technology. The Renaissance High School is a vocational school on the Herbert H. Lehman High School campus. 
Since the age of 16, Cardi B stated that she was a member of a gang called Bloods. Thus, with this experience, she discourages joining one.
At the age of 19, Cardi B worked as a stripper. She was fired from a deli in Tribeca and then applied as a stripper after. Working as a stripper, Cardi B has viewed this experience as a positive one. Stripping has a positive impact on her life as it helped her get out of poverty, domestic violence, and get an education. Though she lied to her mother about stripping and told her mother that she was babysitting, stripping helped her earn enough money to get an education.
Cardi B dated Offset in early 2017. The couple got secretly married later that year in September.
Career
Cardi B got her stage name from the rum brand called Bacardi. It was in 2013 when Cardi B started to gain popularity on the internet after several of her videos got popular on social media such as Instagram and Vine.
The start of Cardi B's career was in 2015. That year was when Cardi B joined the reality television show series entitled Love & Hip Hop: New York, season 6. She was considered the breakout star of the show by Jezebel. Then on December 30, 2016, she announced that she'd be leaving the television show series to pursue her passion for music.
In November 2015, Cardi B made her music debut on Shaggy's remix titled 'Boom Boom' which is his single and alongside Popcaan. 
On December 15, 2015, she made her rendition music video debut titled Cheap Ass Weave, from Lady Leshurr's Queen Speech 4.
On March 7, 2016, Cardi B's full-length project was released. She released her mixtape titled Gangsta Bitch Music, Volume 1. On September 12, 2016, the KSR Group released Underestimated: The Album which is a compilation and collaboration among several artists such as SwiftOnDemand, HoodCelebrity, Cashflow Harlen, Josh X, and Cardi B as their flagship artist. In the same year, Vibe magazine featured Cardi B on the digital cover in November. 
In 2016, Cardi B got her first featured endorsement with Romantic Depot which is a lingerie store in New York City that also sells sexual health and wellness products.  
On January 20, 2017, Gangsta Bitch Music, Vol. 2, was released, the 2nd mixtape of Cardi B. The next month, Cardi B teamed up with Gypsy Sport and MAC Cosmetics for an event for New York Fashion Week. Also in February, she got her first major-label recording contract as she signed with Atlantic Records. On February 25, 2017, she was the opening act on The Lox's 'Filthy America… It's Beautiful' for the East Coast hip hop group with rappers Remy Ma and Lil' Kim. 
In May 2017, Cardi B was nominated for Best New Artist and Best Female Hip Hop Artist of the BET Awards. She tied with DJ Khaled and Kendrick Lamar. She then performed at the afterparty of the BET Awards.
On June 16, 2017, Cardi B released her debut single with Atlantic Records, 'Bodak Yellow', which was released through digital distribution. The single, Bodak Yellow, reached number 1 on the Billboard Hot 100. Bodak Yellow made Cardi B the first female rapper to rank the number 1 spot since Lauryn Hill's Doo Wop in 1998. She is also the first female of Dominican descent to be ranked number 1 in history since 1958. The single was certified by the Recording Industry Association of America as nonuple platinum. Cardi B single has received nominations at the 60th Grammy Awards for Best Rap Song and Best Rap Performance. At the BET Hip Hop Awards, Cardi B's Bodak Yellow won the Single of the Year.
She is the first female rapper to land her first three entries such as 'No Limit' and' Motorsport 'in the Hot 100 reaching the top 10. She is the first female artist to also reach the top 10 spots on the Hot R&B/Hip Hop Songs chart category.
In the present year, on February 5, 2021, she released her second single titled 'Up'. The song received positive reviews for its lyrics and fresh approach. Up reached number 2 on the US Billboard Hot 100 chart. The song also reached number 1 on the Rolling Stone Top 100.
Cardi B is a talented artist and has received several awards and nominations such as Album of the Year, Best Rap Album, and Record of the Year. 
Aside from music, Cardi B has ventured into the fashion business by releasing her collection with Fashion Nova.
She has also endorsed several famous brands such as becoming the face of Balenciaga's ad campaign for the 2020 winter season, M.AC in 2017, Marc Jacobs, Tom Ford, Reebok, and Pepsi.
Cardi B Total Net Worth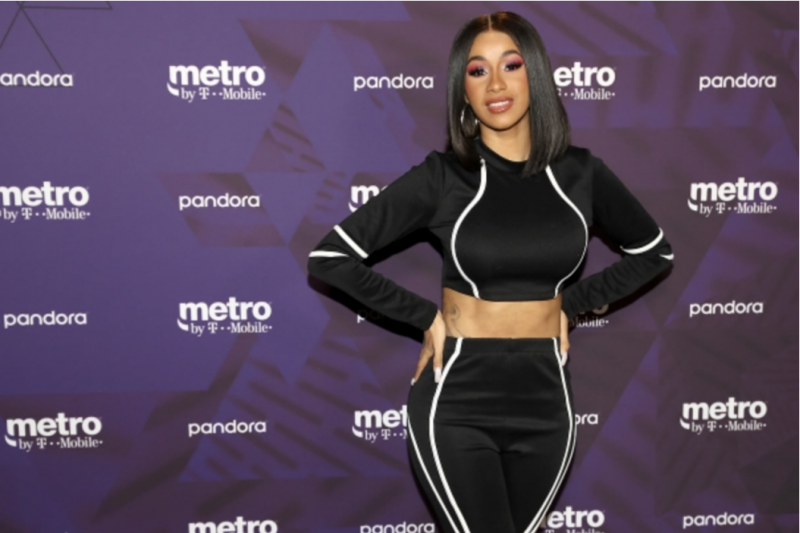 Cardi B has become a popular artist worldwide. She gained popularity on her social media and then proceeded to pursue her career in music.
Her success gained her endorsements from famous brands which added to her net worth. 
Cardi B has an estimated net worth of $30 million.